HOW TO USE THE ONLINE DEBT RECOVERY FORM AND OPEN AN ACCOUNT
STEP 1.
FILL THE FORM IN AS BELOW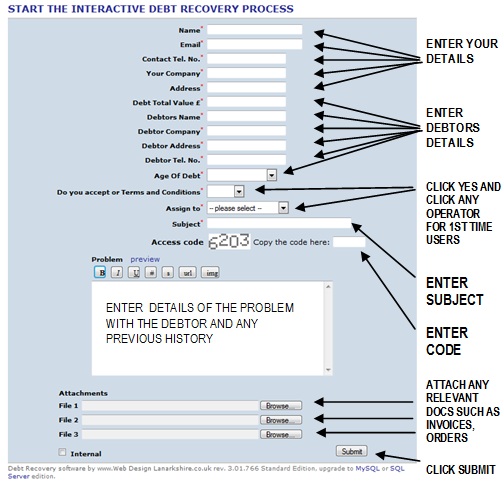 HOW YOUR ACCOUNT IS AUTOMATICALLY CREATED
STEP 1.
WHEN YOU CLICK ON SUBMIT YOUR ACCOUNT WILL BE AUTOMATICALLY CREATED AND YOU WILL BE TAKEN TO A CONFIRMATION PAGE AS BELOW
STEP 2.
BELOW IS A COPY OF YOUR EMAIL THAT WILL BE SENT TO YOU AND YOU CAN TAKE THE ACCESS CODE IN THE EMAIL AND CLICK ON THE LINK ON OUR HOME PAGE MEMBERS LOGIN AND IT WILLTAKE YOU INTO THE ONLINE DATABASE WHERE YOU CAN SEE ANY UPDATES MADE BY THE COLLECTOR AND YOU WILL BE ABLE TO RESPOND TO ANY UPDATES